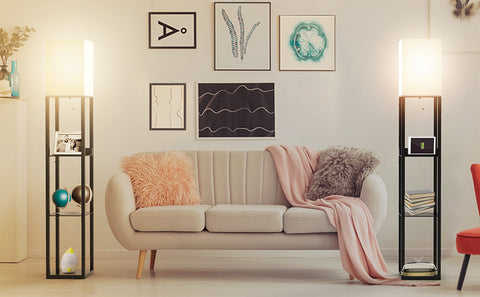 Real Solid Wood. Our floor lamps with shelves are made of solid wood with stable structure, are high loading and durable. The non deforming high density beech frame,1.5 inch thick, can bear up to 20 pounds daily necessities and decorating stuff like remote control, dolls, plants, vases or books.

2 Fast Charging USB Ports and 1 Power Outlet Function. Our latest shelf floor lamp light has 2 charging USB ports and a power outlet, which can charge 3 devices like cell phone, pad or bluetooth speaker in the same time.

Easy Assembly. Come with tools for assembly, and manual with assembly chart, just screw in the screws, put the white lamp shade on. It may only take several minutes to set up.

3 Color Temperature LED Bulb Included. Our shelf floor lamp includes a 9 watt, 1000 lumen power saving LED bulb. The LED lamp bulb is 3 color temperature 3000 Kelvin, 4000 Kelvin, 5000 Kelvin. Our floor lamps with shelves is perfect for bedrooms, living room, reading room and office.

Freedom Storage and Display. The 3 tiers wood panel is helpful and useful. In addition to charge 3 electronic devices on the third power panel at the same time, these shelves can also be used as storage for books, remote controls, or cell phones. You can also put decorative ornaments on the bottom or second tier, such as vases, vegetation, photo frames, other decorations and so on.